2018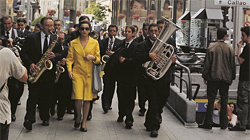 "PILAR ALBARRACÍN. QUE ME QUITEN LO BAILAO"
Tabacalera. Sala La Principal. Madrid
November 23rd 2018 - January 27th 2019
Pilar Albarracín (Sevilla, 1968) multidisciplinary work with video, performance, installation, drawing, photography or arts and crafts, combines social commitment with the aesthetic of the form. Humour, colour and beauty coexist in her work with strong criticisms to inequalities, prejudices and Manichaeism.